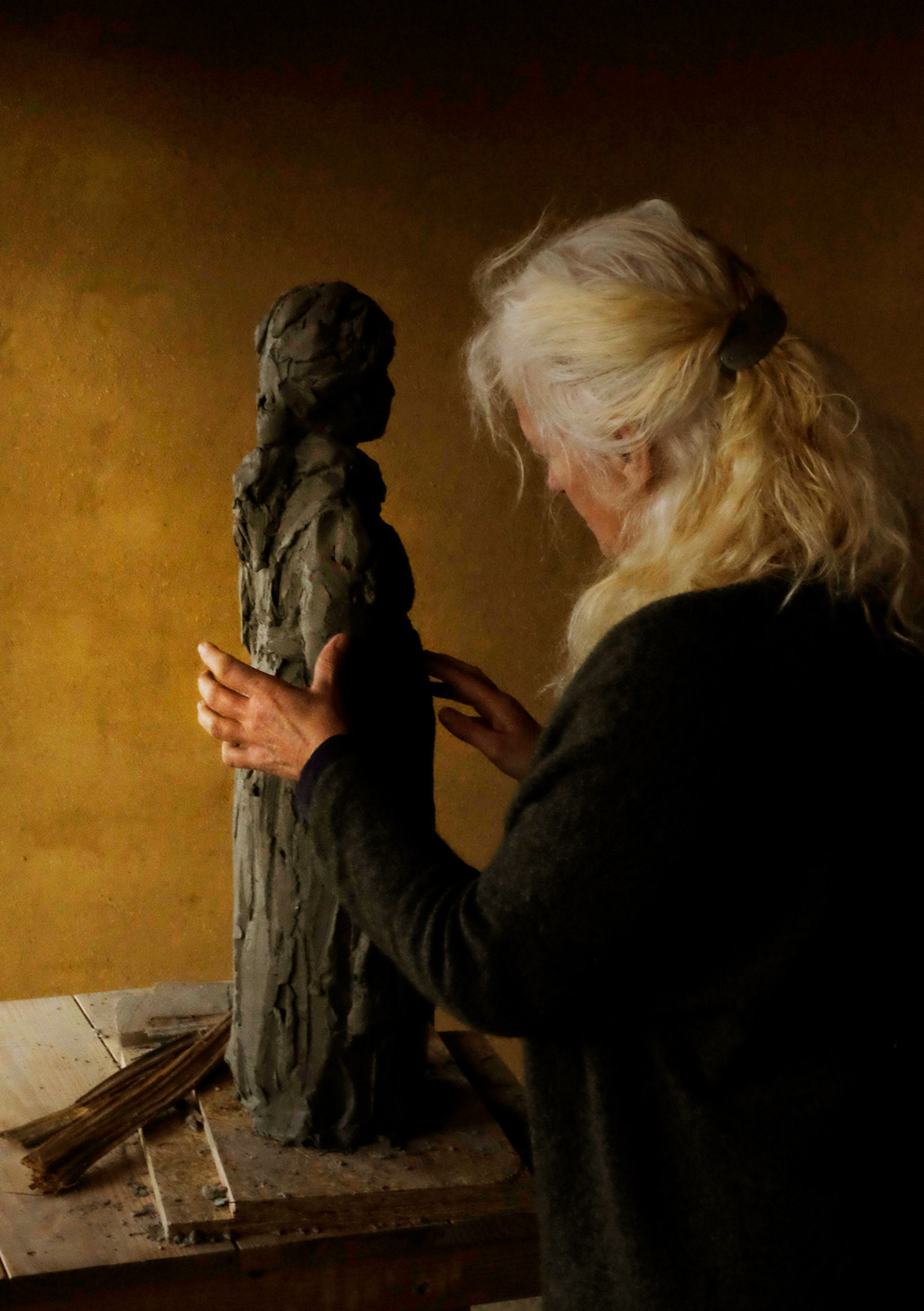 Alexandra Cool is a sculptor and photographer.
She has been working for several years in Carrara (Italy), New York and Corsica. Nowadays, her home base is in Ossogne -Thuin (Belgium) and the Auvergne (France).
Alexandra has an intimate rapport with nature. Her respect for natural materials and their inherent beauty is a great source of inspiration. She attempts to reveal what is invisible and silent.
She likes to explore the relationship between nature and people. Sometimes her work is clearly socially engaged.
Alexandra Cool
1961, Wilrijk, Belgium
EXHIBITIONS (selection)
2020 - In Paradisum, Orangerie Botanische Tuin, Leuven
2019 - Mouseion, Het vijfde huis, Antwerpen
2019 - Mayken Verhulst, de vrouw achter Breughel, Snijders&Rockoxhuis, Antwerpen
2019 - Breugeliaanse streken*, Kunstenparcours, Pepingen
2018 - Perforto*, CC van Beringen, CC Houthalen-Helchteren en CC Zoutleeuw
2018 - Magma Cloud Ashes*, Belfius, Brussel
2017 – De Zee, Ouwe kerk, Retranchement NL
2017 - Kairos*, Kasteel van Gaasbeek, Gaasbeek
2016 - Mouseion, Ouwe Kerk, Retranchement NL
2015 - Napaea, CCHA Cultuurcentum, Hasselt  
2015 - Mouseion, Hospitaalkerk, Ninove
2015 - De Alzheimer Code**, De Singel, Antwerpen
2015 - The Time Being, Muntpunt, Brussel
2014 - Health something of Value*, Senaat, Brussel
2013 - Moments of Writing, CC Westrand, Dilbeek
2013 - Belfius Art Prize*, Belfius Pacheco, Brussel
2013 - Van water en mensen, Anna 3 Kerk, Antwerpen
2013 - Moments of Writing, Muntpunt, Brussel                                                                       
2012 - The Time Being, Sint Norbertus, Duffel 
2012 - Stills, Gallery Dupuis, Brussel
2012 - Unlocked*, Vlaams Parlement, Brussel
2012 - Stills of Water, Apothiki, Paros-Greece
2011 - Briefly*, nOna, Mechelen
2011 - On the move**, De Munt/La Monnaie, Brussel
2011 - Moments of Writing/ Insight, FotoMuseum, Antwerpen
2011 - La Frontière/De Grens*, Kunstenparcours, Brakel/ Bozar
2011 - Moments of Writing, Passa Porta, Brussel
2005 - Des racines et des cimes, Dewart Gallery, Brussel
2004 - Bomen in Brussel, Halles St. Gerry, Brussel
2003 - Resting Stones, Dewart Gallery, Brussel
2002 - People and Landscape*, Benoot Gallery, Knokke
2001 - Portraits, Odile Oms Gallery, Ceret /France
2000 - Acts of Faith*, Municipal Art Museum, Osaka/ Japan
2000 - Ranfonu, Installation with William Peers, London, Royal Geografical Society, Londen
1999 - Acts of Faith*,Howland Cultural Center, Beacon - USA 
1998 - Acts of Faith*, Lubelsky Gallery, New-York
1998 - Portrais, International Studios , New-York
1998 - Ortolo*, Atelier 14, New-York
1998 - Carol, Deiglan Gallery, Akureyri / Island
1996 - Echo des pierres, Brigittinekapel, Brussel
1994 - Moving Silence, Ithaka festival, Leuven
* group exhibition
** scenography