Mouseion, Hospitaalkerk, Ninove, 2015  
Installation of 12 busts in plaster (75 cm) and 24 photos (30×45 cm).
I made twelve busts from clay that depict the muses of twelve well-known artists.
I then took photos of the clay busts and coloured them using Photoshop. Next to each portrait photo, I placed a photo of a landscape that I thought suited that woman.
I modeled Agnes Frey by Albrecht Durer, Hortense Figuet by Paul Cézanne, Jo Nivison by Edward Hopper, Madeleine Chapelle by Jean-Auguste-Dominique Ingres, Emilie Flöge by Gustav Klimt, Natalia Manchenko by Kazimir Malevich, Jeanne Hebuterne by Amadeo Modigliani, Camille Doncieux by Claude Monet, Fernande Olivier by Pablo Picasso, Margarita Lutti by Raphael Sanzio, Saskia Uylenburgh by Rembrandt and Hélène Fourment by Rubens.
Mouseion is a place or temple dedicated to the muses, the Greek goddesses of the arts, from whom our word museum originates.
With this work, I want to place the women behind the male artists in the spotlight, those who have been inspiring muses in a supporting role.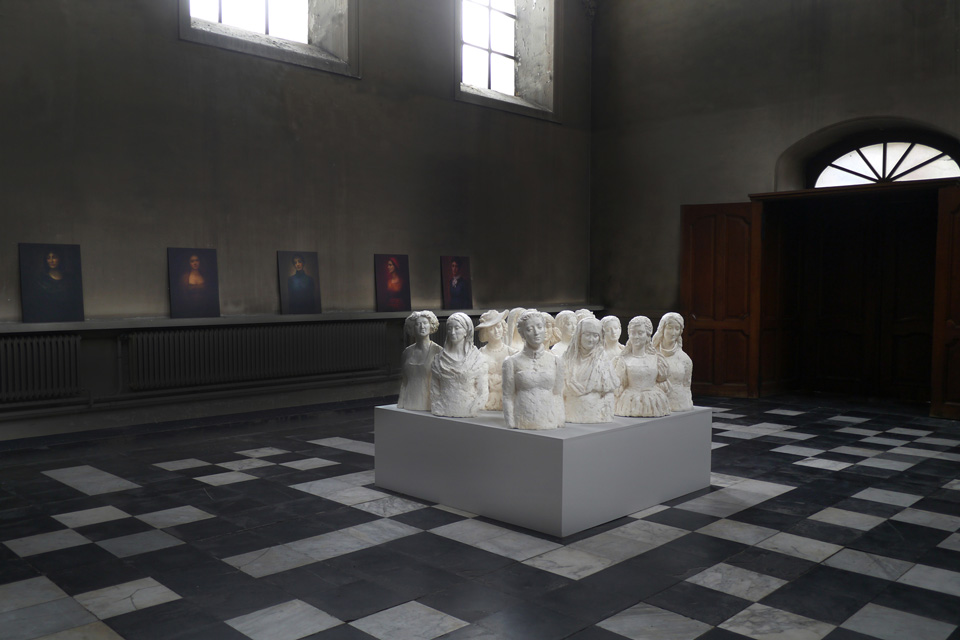 Mouseion, Hospitaalkerk, Ninove, 2015